Reverend Dr. Eddie L. Bright
Pastor, Mt. Zion Missionary Baptist Church
Pastor Eddie L. and First Lady Vivian Bright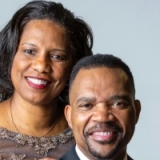 South Carolina native, Reverend Dr. Eddie L. Bright, is the dedicated pastor of Mt. Zion Missionary Baptist Church. He has humbly served its members and the community since September 2013. The natural-born leader attributes his strong faith in God, discipline, and his desire to live better to his parents, Anna Bell and Thomas Bright Sr. He and his six siblings were blessed with a loving home and strong family foundation. His upbringing has helped him in every obstacle he has faced and paved the way for him to lead the congregation.
He holds a Bachelor of Science Degree in biology from Winthrop University where he joined Kappa Alpha Psi Fraternity, Inc. and was named Polemarch(president) of the chapter. While attending Winthrop, he enlisted in the United States Marine Corps and later re-enlisted in the United States Naval Reserve. Near the conclusion of his enlistment, he had a successful 17 ½ year long career with Delta Airlines. He began his entrepreneurial journey and launched a religious apparel company, Bright Abundance, Inc., where he has since trademarked the logo. While running his business, he earned a Master of Divinity with a concentration in Psychology of Religion in Pastoral Care from the Interdenominational Theological Center (ITC) at Morehouse School of Religion. He earned his Clinical Pastoral Education (CPE) in hospital chaplaincy, completed his internship, residency, and employment as chaplain – all at Emory Healthcare. Rev. Bright received his Doctor of Ministry Degree from Mercer's McAfee School of Theology in May 2021.
Rev. Bright was licensed and ordained by Dr. Cameron Alexander at Antioch Baptist Church North in Atlanta, Georgia. He began his servant leadership roles at Antioch as the associate minister and held several positions thereafter to include president of the Ministerial Alliance and minister to the Christian Education Department. His involvement in various outreach ministries allowed him to serve the least of these and the lost.
He presently serves within the three levels of the General Missionary Baptist Convention (GMBC). At the local level, the 5th District of the GMBC, he is the President and a certified teacher. Within the GMBC of Georgia, he is vice-chairman of the Election Commission and a certified teacher, and he is also a member of the National Baptist Convention (NBC), USA, Inc.
Rev. Bright has been married to his college sweetheart, Vivian, since 1989. They are blessed to be the proud parents of four sons: Julian (Ashley), Ryan (Chyna), Sterling and Evan, who is now deceased. He has three adorable granddaughters: Emery Ryan, Aubrey Dianna and Ivory Elle.
Referring to himself as a "Child of the King," he will always be a servant of God who strives to become better daily. When all of his work on earth is done, he wants to be able to say, "I have fought a good fight, I have finished my course, I have kept the faith." -
2 Timothy 4:7
.
Please refer to the Church History to see Pastor's contributions to the church and community